HYDROCYCLONE
ROLJACK Hydrocyclones are very widely used for high-throughput coarse/fine particle separation in the mineral processing industry using a vortex effect, or simply slurry dewatering. A hydrocyclone can handle very high slurry throughput rates, and often an entire battery of hydrocyclones can be found at a mineral processing facility. The advantage of fast processing by a hydrocyclone is somewhat offset by the associated high impingement wear rate of the hydrocyclone internal surface lining by the fast-moving abrasive slurries. For this reason, wear-resistant linings of the pipes (inlet and overflow), vortex finder, cyclone chamber, and exit spigot (underflow) need to be lined with wear-resistant materials, usually alumina ceramics. Moreover, the impingement angle varies for different areas within the hydrocyclone. For practical servicing reasons, it is desirable that the wear rate is uniform, which means that ceramics of higher wear resistance might be used for high-impingement-angle areas such as the top wall near the vortex finder, and the underflow spigot.
advantage
Roljack Hydro cyclone series washing equipment with dewatering machine is a tertiary stage machine in a stone crusher plant where input to the machine is fed from vibrating screen. Coarse particles is discharged to dewatering screen through underflow of hydro cyclone via input chute.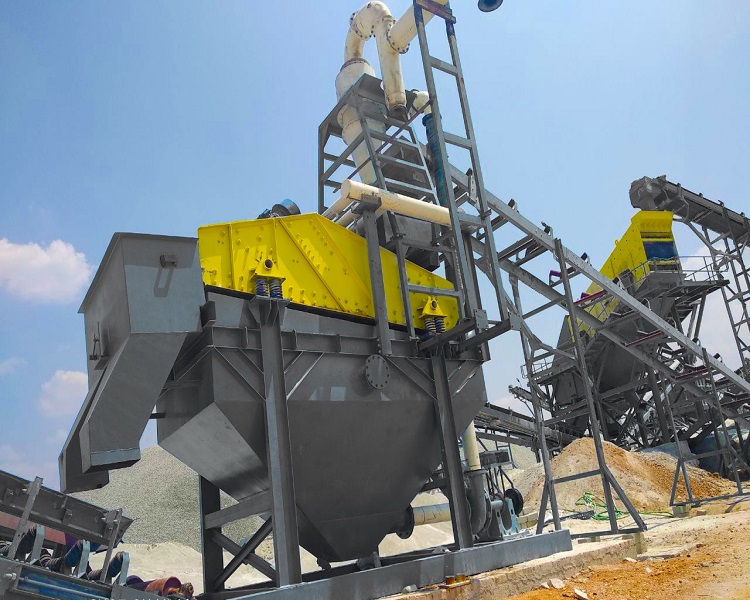 Interested with this service.