VERTICAL SHAFT IMPACTOR (VSI)
ROLJACK VSI crusher use a different approach involving a high speed rotor with wear resistance tips and a crushing chamber designed to 'Throw' the rock against the rock. The VSI Crusher utilize velocity rather then surface force as the predominant force to break rock. In its natural state, rock has a jagged and uneven surface. As rock is 'thrown' by a VSI rotor against a solid anvil, it fractures and breaks along these fissures. VSI crusher generally utilize a high speed spinning rotor at the center of the crushing chamber and an outer impact surface of either abrasive resistance metal anvils or crushed rock. Utilizing crushing rock on the outer wall of the crusher for new rock to be crushed against is traditionally referred to as "rock on rock VSI".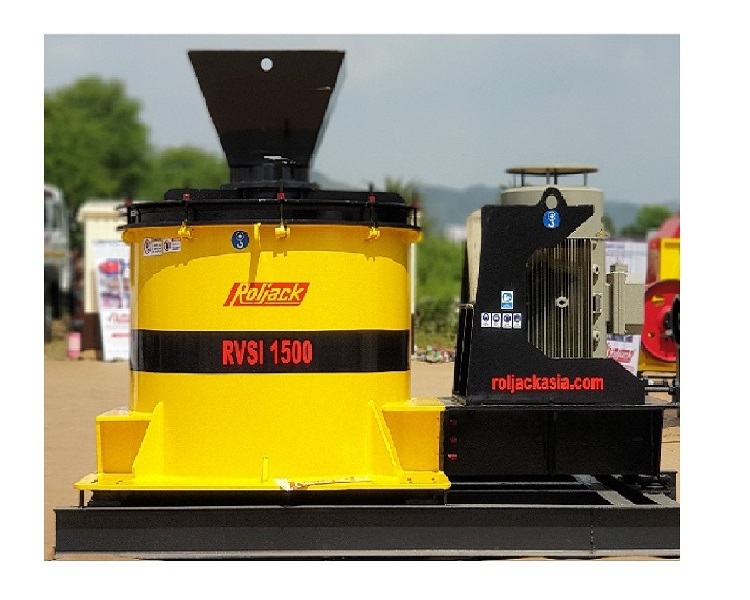 key features
Very Cubicle Product
Best For Sand Product
70% Compared Low
Benificiation of Material
Gradation consistency
High product yield
Simple maintenance
High throughput capacity
Low capacity investment
High product yield
benefits
Available in ROR,ROS,SOS
Large spherical roller bearing
Patented Hydra Lid Lifter
Externally Adjustable Feed tube system
Lid & Main frame lines are 60% cast chrome protected
Tungsten carbide components in rotor
USA renowned technology
Production capacity upto 800 T/H
Only machine, feed Size upto 90mm
Rotor available in 4 port, 3 port as per application

Interested with this Product.